Traditional Dye Processes
There are three main different processes used to dye wool.

Direct Dyeing:
This is the oldest method of dyeing fibers. Some examples are purple dyeing as carried out on the coast of Mexico using purple shells and some methods of indigo dyeing.
Mordant Dyeing:
This method was discovered sometime between 4000 and 3000 BC in Mesopotamia. In this method, the wool is previously treated with certain salts, so that the dyes would bind to the wool fibers, resulting in a more-or-less colorfast dye. Some examples of mordants are alum, iron salts, copper salts, and tin salts. The type of mordant also affects the intensity of the colors.
Vat Dyeing:
This is the method used with indigo, discovered in the third or fourth millennium BC. It is debated whether this technique was discovered in Mesopotamia, India, and Egypt independently. It was also independently discovered in South America. This method is a combination of a reduction and oxidation process. The water insoluble blue dye from the indigo plant is extracted through a fermentation process. Then, it undergoes oxidation, converting the blue to a water-soluble, yellow dye. This is placed in a vat with the wools. When the wool is pulled out of the vat, it undergoes oxidation and again produces the water-insoluble blue indigo. Since the blue indigo dye is not chemically bound to the fibers, it is not very resistant to abrasion, especially on cotton.
After the wool is dyed, it is the tradition in Turkey to immerse the freshly dyed wool into an alkaline ash solution. Generally, this darkens the colors and adds a gloss to the wool.
Long ago dyers realized that as more wool was dyed in a single dyepot, colors became weaker and weaker. Dyers use this notion of depleated dyes to their advantage. The first dyeing produces a deep, strong color. Subsequent dyeings in the same dyepot produce lighter, softer colors. Such changes can often be observed in handmade, hand-dyed rugs in a phenomenon called abrage.

Some Examples of Traditional Natural Dyes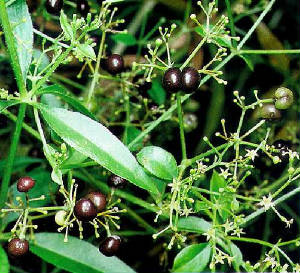 Rubia tinctorum (Common madder)
Red and Violet
Red and violet dyes can be obtained from both plants and insects.

- Common or Dyers' Madder (Rubia tinctorum)
Turkish Name: Kök, Kökboya, Yapişkan otu
The finger-thick roots of this shrub is used for the dye. It is believed to have originated in Anatolia, but it is found in the Caucasus, Iran, and western Central Asia. Various hues from red to violet can be obtained.


Roots of the madder plant
- Safflower (Carthamus tinctorius)
Turkish name: Aspır
The yellow dye from this plant was considered useless, but the red dye was valued, despite its poor lightfastness. This can be seen on the 16th&17th century "Polish" carpets (really Persian), although the red is completely faded.

- Also others such as Lady's Bedstraw, Dyers' Alkanet, Pokeberry

Red is also often obtained from dye-insects. Some of the most famous textiles in the world contain this kind of red. For example, the Pazyryk Carpet has a red dye from the Polish kermes, the Safavid prayer rug from Persian in the Topkapı Museum has a lac red, Roman textiles from Palmyra has red from the Ararat kermes, and Ottoman sultan silks and many later Oriental rugs and kilims have a red dye from the cochineal.

- Mediterranean Kermes (Kermes vermilio)
This is a parasite of the kermes oak that is common on the Mediterranean coast and also probably in the Zagros Mountains of Iran. Females filled with their unborn larvae are collected, killed in vinegar, and dried. Now, it is mostly replaced by cochineal. It provides a bright red with a light yellow tinge, similar to madder red.

- Ararat Kermes or Armenian Kermes (Porphyrophora hameli)
This is a parasite that lives on the roots of two varieties of grass that grow in salt marshes on both sides of the Araxas river. On silk, it provides a medium pink and on wool, it provides a darker red.

- Lac (Kerria lacca)
This insect is native to India and other southeast Asian countries. Wingless, fertilized females settle on young twigs of a plant and begin to suck the sap. They then secrete a resin-like material that eventually covers the whole colony and forms a mass around the twigs that enclose the insects. These twigs are gathered and treated to obtain a red dye.

- Cochineal (Dactylopius coccus)
This insect is native to Central America and lives on cactus. The sucking female lice becomes covered with a white substance. When pierced, they secrete a dark red drop. The cochineal red has taken over the Old World dye-insects mentioned above in the volume of the dye and the brilliance of the color. Cochineal red is a dark red with alum mordant and violet with ferric mordant.

Distinguishing Insect and Madder Red
Although distinguishing the different reds is difficult for the untrained eye, there is a distinct difference in the colors. Madder red is a warm red with a red tinge and can even tend toward orange. In contrast, reds from insects are cool reds with a touch of blue. Differentiating between cochineal and lac reds are more difficult. However, in general, cochineal red is more brilliant and luminous than lac red, which tends to appear matt and dark.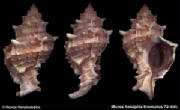 Hexaplex trunculus (Purple snail)
- Purple Snails
Purple dyeing can be done through the use of purple snails, mainly Bolius randaris and Hexaplex trunculus. Often specified as Tyrian purple, in ancient times, it was highly desired, very prestigious, and expensive. The method was probably discovered in the 12th century by the Phoenicians on the eastern shores of the Mediterranean and eventually spread to Egypt, Greece, and the Roman Empire. After the Ottoman conquest of Constantinople in 1453, the purple dyeing with the use of snails dyed out in the Mediterranean. Now, it can be seen only in the Pacific coast of Mexico. In ancient times, snails were removed from their shells, the hypobrochial gland was cut out, salted, and then processed. In modern times, a more humane process is used, which does not require the killing of the snails.

Yellow and Orange
There are numerous plants that dye yellow, although many of them tend to fade.

- Dyers' Weed or Weld (Reseda luteola)
Turkish name: Muhabbet çiçeği
All of the above-ground plant parts, fresh or dried, gathered shortly before it stops blooming in June is used. It provides an intensive yellow color with very good lighfastness. The plant is native to western Asia and the Mediterranean area. It was preferred by the Romans and also found on the Uşak carpets and 16th-century "Lotto" carpets. This dye plant stopped being used in Turkey and Europe toward the end of the 19th century due to the introduction of synthetic dyes. However, since the 1980s, they are being increasingly used again due to the reintroduction of natural dyes in Turkey.

Varieties of Chamomile (Just in Turkey at least 50 species are known)
- Anthemis chia
Turkish name: Beyaz papatya
The flowers are used to obtain a yellow with sufficient colorfastness. Found in western and southern Turkey and southern Europe.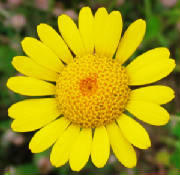 Anthemis tinctoria (Yellow chamomile)
- Golden Marguerite or Yellow Chamomile or Dyer's Chamomile (Anthemis tinctoria)
Turkish name: Boyacı papatya, Sarı papatya
Flowers are used to obtain a yellow with sufficient colorfastness. Found in Turkey, Europe, and southwestern Asia.

- Chrysanthemum coronarium and other varieties of Chrysanthemum
Fresh or dried flowers are used to obtain a orange-yellow with good lighfastness. Found in the entire Mediterranean region, as far east as Iran.

- Barberry (Berberis crataegina)
Turkish name: Karamuk
The fresh or dried roots and bark from this plant has been repeatedly mentioned in Turkey as a dyeplant. However, the yellow obtained from this plant tends to turn brown with exposure to light. The plant is found throughout southwestern Asia on stony slopes. During WWI, Turkish army tents were dyed with barberry.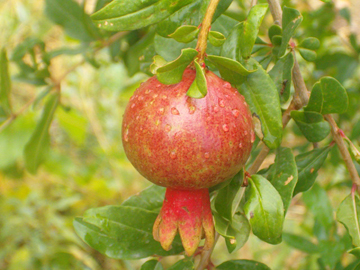 Puica granatum (Pomegranate)
- Pomegranate (Punica granatum)
Turkish name: Nar ağacı
The fresh or dried peels of the fruit are used. Yellow with adequate lighfastness can be obtained with an alum mordant and a yellow-brown to black with good lightfastness can be obtained with a ferrous mordant. The plant is native to southwestern Asia.

- Saffron (Crocus sativus)
Turkish name: Safran
The stigmata of the flowers are used and its price is close to that of gold. The robes of Persian kings were dyed with saffron, which gives a light yellow color, but with inadequate lightfastness. Saffron is known primarily as a spice, medicine, and for perfumes. It is believed that the Asia Minor was the original home of the plant, but has been cultivated for over 3000 years.

- Inula viscose
Turkish name: Güve otu, Bit otu
The flowers, leaves, and stems, preferably fresh, are used to obtain an intensive yellow that can change to brown-yellow due to the influence of light. The plant is found throughout the Mediterranean area and this dye has been identified in several antique carpets from Bergama.

- There are also numerous other plants such as Three-leafed sage, Strawflowers, Chaste Tree or Monks' Pepper Tree, Yarrow, Thyme, Verbascum, Foxglove, Daphne oleoides, Sorrel, Dyer's Sumac, Sicilian Sumac, and Anatolian Buchthorn.
However, these tend not to be as lighfast as the ones mentioned above.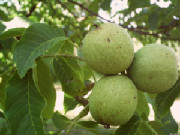 Juglans regia (Walnut oak)
Brown
There is only one significant dyeplant for brown, the walnut family.

- Walnut Tree (Juglans regia)
Turkish name: Ceviz ağacı
Fresh or dried leaves and the husks of the nuts are used to produce a brown dye with excellent lightfastness. The walnut tree is native to the Balkans, Asia Minor, and the Middle East. Interestingly, classical Turkish carpets from the 15th to 17th century do not have walnut brown, although Persian carpets from the same time period do.

Black
Black dyes are possible when tannins combine with iron. However, this causes the corrosion of the wool. Use of ferrous mud and salts are less harmful. In addition, a black that is totally free of corrosion can be produced through a triple dyeing process. First the wool is dyed blue with indigo, followed by yellow from dyer's weed, and finally dyed red with madder. Black seen in classical Persian carpets were made this way.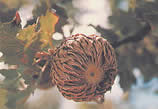 Quercus ithaburensis (Walloon oak)
- Walloon Oak (Quercus ithaburensis)
Turkish name: Palamut meşesi
The acorn caps from this tree native to the open forests of western Turkey, southern Italy, and southern part of Balkans are used. First a lightfast, yellow-brown color is achieved by boiling the wool with the acorn caps and leaving them soaking for several hours, followed by a rinse and dip in alkaline water (mixed with ashes). In order to make this turn black, a hot mordant bath with ferrous salts is used.

- Quercus infectoria
Turkish name: Mazı meşesi
These are gallnuts, a cancer-like growth on trees, produced by gall wasps on some species of oak.

- Also other plants have suitable amounts of tannin such as Sicilian sumac and Mullein (Verbascum)

Blue
Indigo produces a beautiful blue that is lightfast, has been used for four thousand years. It has no natural competitors, although now synthetic indigo, which is virtually indistinguishable by just looking, is made. However, indigo does not chemically join with the molecules of the fibers. It is only attached by a mild adhesion to the surface of the wool. This is why it is not resistant to abrasion. Vat dyeing is the usual method, but direct dyeing is also used in some areas such as northeastern India, Laos, Malaysia, and Indonesia (see top of page for details on various dyeing methods). There are many species of plants that contain the preliminary stages of indigo, but only a few from the Indigofera family are used for dyeing.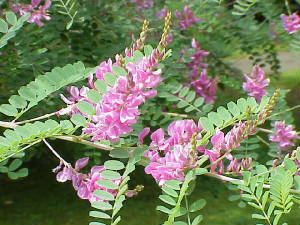 Indigofera tinctoria (Indigo)
- Indigo Shrub (Indigofera tinctoria)
This plant is the only member in the Indigofera family that is indigenous worldwide in tropical and subtropical areas. First, shortly before the plants blossom, they are cut above the ground before sunrise. Then, after the branches are bundled, they are weighed down with tree trunks and covered with water. Fermentation starts at temperatures greater than 86 degrees F (30 degrees C), which cause the enzymes in the plants and bacteria to break down the indicant in the leaves into a soluble yellow indoxyl and glucose. Fermentation continues for over 12 hours. When the resulting yellow indoxyl comes in contact with oxygen on the surface of the water, an iridescent layer of indigo forms. When the fermentation is finished, the liquid and plant materials are separated. Then, the long oxidation process follows. The yellow liquid is stirred so that oxygen comes in contact as much as possible to form the insoluble indigo. This sinks to the bottom and forms an indigo slurry, which is then strained. The remaining water is then removed, either by boiling or straining over a finely woven cloth or bed of sand and formed into clumps.

- In addition, Dyer's Woad (Isatis tinctoria), Dyer's Knotweed (Polygonum tinctorum), and Marsdenia tinctoria are some other plants that are used to produce blue dyes.